House Selling Challenges Your House Painter Can Help You With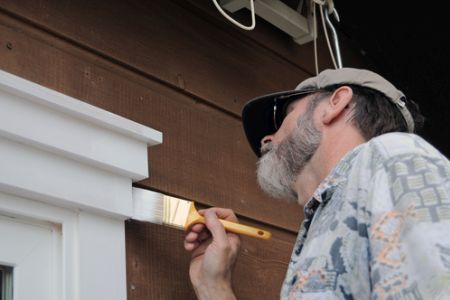 Selling your house and thinking about painting or making a few repairs to get it ready? Two of the biggest challenges you'll face is selling quickly and getting the asking price you want.
Buyers come in different forms, but most have one thing in common: They want to find a home that looks inviting and not like it's been neglected for far too long.
Of course, you can always sell your home to an investor for much less. But, if you want the best price and want to sell it fast, a house painter can help you avoid come of the challenges altogether.
Damaged Wood Siding or Trim
Peeling paint, rotten wood, holes in the drywall, and cracks around the doors or windows aren't what buyers are looking for.
Unless your house is falling down around you, you can make it look fresh and inviting by painting and making a few carpentry repairs.
Our house painters at Fast Pro Painters recommend to always find a professional who can repair the damaged wood siding and exterior trim before painting. You'll save money by hiring the same person to repair the bumps and defects first.
Wood trim and roof eaves should be repaired and cracks around the windows and doors should be sealed before painting. This will enhance your exterior curb appeal as much as possible. Otherwise, buyers may just keep on driving by!
Remove peeling paint
Repair siding damage
Replace trim
Interior Carpentry & Wood Rot Replacement
You can bet that home buyers notice the little things like rotting boards on decks, wood rot around the doors, water damaged cabinet bottoms, missing trim, and other details.
A house painter with carpentry skills can help you with the bigger projects like replacing a section of interior wood paneling, repairing a deck, or fixing the water damaged boards in the cabinets under the sink.
Power Washing Could Be All You Need For The Exterior
Once your house gets freshly painted, you'll want to keep it looking fresh. Most professional house painters pressure wash a dirty house before they begin their painting work, so don't forget to ask if they do.
Very often, power washing is all you need to renew the fresh look of a house, even if you need some trim repaired and spot painting. Many people are surprised when a professional tells them they don't need to paint again!
Choosing New Paint Colors
Once the surfaces are smooth and ready for paint, a skilled house painter can also help you with color selection. Not all painters have the artistic eye to help you choose colors but many do have the ability to give you a designer look, even if you have a small, old house you're planning to sell.
Interior and exterior paint colors can make a huge difference in how quickly your home sells. Make sure you choose colors that would appeal to the most people instead of just yourself. With the help of a reliable house painter, you have the best chance to sell quickly at the price you want.
Contact Us
If you're looking for a professional Nashua house painter, please call Fast Pro Painting today at 978-398-5774 or complete our online request form.